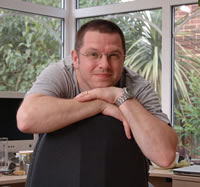 I have been working with Lotus Notes since v3.3 as a developer, plugging away and avoiding the Red Box of death.
I got into IT after leaving Plymouth Uni with an underwater studies degree – came with a free commercial diving ticket so can't complain.  Of course this degree is ideally suited for working with computers
My first job in IT was working for Natwest Bank as a junior developer, building room booking systems in Notes 3.3 – just goes to show you whats possible with @formulas.
I then went on to work with other companies – Lloyds, Computacentre, Lotus Professional Services (via an IBM partner), Enron, Sony Music, Mars, Ernst & Young and finally Capital Group.  All the time pushing and expanding where ever possible with Lotus Notes.
A couple of areas I am currently looking at are Adobe Flex and gardening.
Flex plays well with Notes, not so sure about the gardening.
I live in the North Cambridgeshire Fens and commute into London. Living here means I get to grow plenty of fruit and veg and dabble in the garden.